Neck Pain from Car Accidents
Neck pain such as whiplash is common after an auto accident. If you suffer from neck pain, our chiropractor can treat it using holistic methods rather than medication. Learn how common neck pain is after a car accident in the Washington Township area and the surrounding communities of Sewell, Turnersville, Williamstown, Blackwood, and Glassboro, and how our chiropractor can treat it.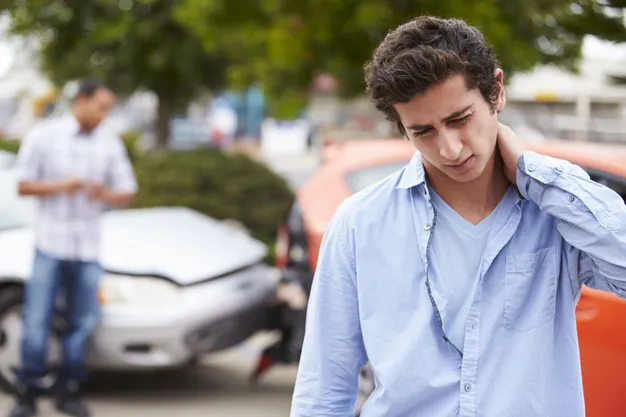 Why is Neck Pain a Common Car Accident Injury?
During a car accident, the force of the impact affects your bones, ligaments, and muscles. Whiplash or neck strain is among the most common auto accident injuries because of the way your neck whips back and forth or side to side during the crash. Whiplash affects the neck tissue as well as the muscles in your back.
Studies show that 3 million Americans come down with neck pain after an accident each year. If a neck pain car accident injury is not treated with chiropractic, it will continue to cause pain for years. As many as 1 in 100 individuals feel chronic pain in their neck years after a car accident.
How Our Sewell, Turnersville, Washington Township Chiropractor Treats and Reliefs Neck Pain
Our chiropractor will treat your neck pain auto accident injury using a combination of the following methods:
Chiropractic Adjustments - Since the cervical spine is knocked out of alignment in the crash, our chiropractor will realign it using different styles of chiropractic adjustments, which relieve the pain and inflammation you feel.
Gonstead - Gonstead is a hands-on style of chiropractic that is effective for treating neck pain. Our chiropractor will take measurements of your neck, then use the hands to bring your neck back to the proper position through gentle adjustments that do not cause pain.
Diversified - This style of chiropractic adjustment can be used for a range of injuries. We may use Diversified to treat back, shoulder, and neck injuries after an auto accident. It is a flexible and effective method for rehabilitation after auto injuries.
Dropwork/Thompson - The Thompson technique uses a dropwork table to make specific chiropractic adjustments. As we drop the table before making the adjustment, we are able to make deeper adjustments without causing pain. Since this method is gentle, we often use it for the neck region.
Myofascial Release Therapy - Myofascial release works on the fascia inside the neck, which may be locked up after an auto accident. As our chiropractor releases the neck muscles, we reduce the symptoms of your neck pain, including inflammation and pain.
Impulse Adjustment - We may try this technique to perform specific adjustments using an impulse adjustment tool. Because this device has an internal computer, it delivers precise adjustments to specific areas of the neck.
Physical/Pain Rehabilitation - After we restore your alignment, we will provide physical and pain rehabilitation to restore your mobility.

Our New Jersey chiropractic clinic welcomes patients from the Washington Township, New Jersey area including Sewell, Turnersville, Williamstown, Blackwood, and Glassboro. If you have an auto accident injury, we provide a free consultation. Reserve yours on our website or by calling 856-269-4567.