Healing Neck Pain with Chiropractic Care
Neck pain impacts the way that you manage your body and health each day. When an injury leads to neck pain, you might consider seeking professional treatments from a chiropractor. Depending on the cause of your pain and the severity of your injuries, the treatment that our clinic offers will differ; however, you can recover from neck pain. Neck adjustments, along with traditional treatments for neck pain, help reduce the discomfort and allow your body to heal.
Neck Pain Treatments in Sewell, Turnersville, Williamstown, Blackwood, Glassboro, and the Washington Township Communities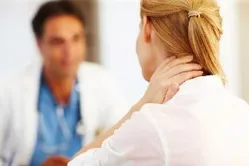 Neck pain stems from a variety of causes and situations. In many cases, injuries from work accidents, car accidents or playing a contact sport lead to pain in the neck. In particular, any injuries that cause whiplash or a sudden movement of the head leads to physical pain and can cause more extensive discomforts.
Even normal activities, like talking on the phone, sleeping or even just watching a favorite television show can put stress on the neck. The stress stems from keeping the head in an uncomfortable or unusual position for an extended period. For example, sleeping with a flat pillow results in an awkward and potentially uncomfortable position that strains the neck or pulls a muscle.
By seeking the help of a chiropractor and working on improving the situation, you have the tools to address the situation and start healing. Chiropractic care works by adjusting the position of the head on the spine so that your back and neck are in proper alignment. Depending on the situation and the severity of an injury, a professional at our clinic can also offer active rehabilitation exercises or similar services to help reduce tension in the muscles and help the neck heal over time.
Our clinic offers professional care in the Washington Township area and serves Sewell, Turnersville, Williamstown, Blackwood, and Glassboro NJ. We recognize that the causes of your pain stem from multiple sources and sometimes you need more than just a simple adjustment to help your neck heal. That is why we offer neck adjustments to improve the overall mobility of your neck through cervical manipulation. It helps improve the range of motion in your neck and head so that you enjoy a better quality of life.
We also provide more comprehensive services if the neck pain stems from poor posture in your back, injuries that impact more than just your neck or difficulty moving due to the pain.
Physical pain impacts your life in unexpected ways. In some cases, it interrupts the way that you handle your work or engage in lifestyle activities. To learn more about reducing neck pain or treating any problems with your spine and posture, contact us at 856-269-4567 today to set up an appointment to discuss your specific situation with a chiropractor.