Our Chiropractor Uses Chiropractic Care to Treat Sports Related Shoulder Injuries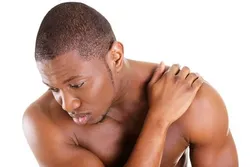 About 7.5 million Americans went to the doctor for shoulder injuries in 2006. Many times, shoulder pain is the result of a sports injury, as the anatomy of the shoulder puts the joint at special risk for injury during repetitive movements involving the arm. Sports-related shoulder injuries range in severity from stiffness to tissue tears. From stiffness to shoulder muscle burning to limited motion and tendinitis in the shoulder, chiropractic care can help you stay in the game after a shoulder injury.

There are two major risk factors for sports-related shoulder injuries:
Increasing the training regimen too quick and improper conditioning.
Falls and contact, which can be difficult to avoid, are also common causes of shoulder injury.
Our Chiropractor Will Find the Right Treatment Plan for Your Shoulder Injury
Throwing, especially overhand, is a common cause of sports-related shoulder injuries because it places a high degree of pressure on the shoulder anatomy associated with stability. Athletes who participate in throwing sports inflict this stress repeatedly and are therefore at greater risk for shoulder injuries. Throwing injuries are most common in baseball pitchers but also occur in people who play volleyball, tennis, track and field events and other sports requiring repetitive overhand motions.
Many sports injuries start small but worsen as the athlete "plays through" the pain. Ignoring a shoulder injury can aggravate the condition and potentially worsen the problem. Many people underestimate the severity of a sports-related shoulder problem and learn how to compensate for the steady pain, weakness, or loss of mobility in an arm.
Our Chiropractic Treatment Plan Will Help Relieve Symptoms of Your Shoulder Pain
Most shoulder injuries are the result of problems with the muscles, ligaments and tendons rather than trouble with the bones. Stiff and sore shoulder muscles are some of the most common sports injuries. Many athletes experience burning shoulder blade pain, general shoulder pain, and stiffness in the shoulders.
Our chiropractic treatment can include:
Chiropractic care
Physical therapy
And gentle stretching exercises usually provide effective relief for this type of shoulder injury.
These treatments ease pain, reduce inflammation, soothe musculoskeletal tension, release endorphins, stimulate endorphin production and prompt internal healing.

The next time you experience shoulder pain, a burning shoulder blade, stiffness or other sports-related injury, make an appointment with Eulo Chiropractic Center at 856-269-4567. The earlier you seek treatment, the sooner you will be back in the game. Our chiropractor has helped countless athletes and weekend warriors in the Washington Township area and surrounding communities of Sewell, Turnersville, Williamstown, Blackwood, and Glassboro, NJ just like you recover from a sports-related shoulder injury quickly and safely.